Weed Respiratory Protection Solutions (WeedRPS) was established by
Jeff Weed
in early 2008 for the purpose of providing respiratory protection consulting services to industrial companies, hospitals, fire departments, police departments, military organizations and government. Mr. Weed's expertise is focused on all methods of respirator fit testing with special emphasis on quantitative fit testing (QNFT) using the TSI PortaCount® Respirator Fit Tester and associated software and accessories.
Expertise available on:

OSHA compliance (29 CFR 1910.134)
Compliance with consensus standards (ANSI Z88.10, CSA Z94.4, etc.)
Review of respirator research proposals involving fit testingFit test adapter design (for QNFT)
Written respiratory protection programs (fit testing section)
Peer review of journal articles involving fit testing
Fit test software design
Fit test instrumentation design
Respirator integrity testing
QNFT Instrumentation specialties:

PortaCount®
N95-Companion™
Fit Test Software
TSI 8587 and 8587A Laser Photometer
Particle generation methods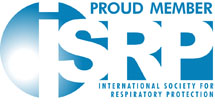 (PortaCount®, N95-Companion™ and FitPlus™ are trademarks of
TSI Inc.
)